Iridology International Doctor of Philosophy Degree Program
The Iridology International Doctorate Degree program offers a comprehensive overview of the iridological sciences, and explores the continuum of research and development ranging from existing iridological principles to current theories and applications.
This iridology degree program offers combined research work of several pioneers including Jensen, Vida-Deck, Gunter, Roberts, Bourdiol, Angerer, Velchover, Andrews, Marcia and Jausas.
POLICY/PREREQUISITES TO ENROLL
Doctor of Science Level Program: The prospective student must hold Bachelor of Science or Master's or Doctorate Degree in other natural health science approved by Iridology International.
Post degree prospective students who have already attained, M.D., N.D., PhD, OMD , D.Ac., TCMD , D.Hom., DAOM., DOM ., DTCM, MSOM and M.H.
Educational programs offered at Iridology International requires student applicants to be knowledgeable in medical terminology, human anatomy and physiology.
If student application does not possess program prerequisites, it is recommended that the prospective student enroll in the following approved courses in medical terminology, anatomy and physiology: Medical and Heath Science Institute
COURSE CREDIT TRANSFERS/ADVANCED STANDING
Prospective students who have already completed prior academic studies in Iridology.
INDIVIDUALIZED LEARNING APPROACH/HOME STUDY ALTERNATIVE
The Iridology International Doctorate program is designed for maximum freedom of study and flexibility. When a student enrolls into the Iridology International Doctorate program, course materials are instantly available via web portal with the availability to access reference material for off-line study.
Study materials such as textbooks, manuals, case studies are included in the Iridology International Doctorate program and are immediately available to the student using the on-line library portal. If the student requests research material or textbooks not found in library, the student shall be responsible to acquire such data at their own expense.
AGREEMENT
Students agree and understand that all course work is delivered via correspondence.  Iridology International Doctorate program does not guarantee a graduate the right to practice in the field of natural health, health counseling and/or consultation, or to practice any form of medicine without state approval.
Iridology International Doctorate program in Iridology expressly reserves the right to change without notice all information contained herein; including, but not limited to, the following: fees and tuition, policy and procedures, degrees offered, required coursework and course offerings, and/or degree/academic requirements.
TUITION
| | | | | | |
| --- | --- | --- | --- | --- | --- |
| PROGRAMS | CREDIT HOURS | TUITION | MONTHLY PAYMENT OPTION I | MONTHLY PAYMENT OPTION II | FULL TUITION OPTION |
| Doctorate Degree in Iridology | 120 credits | 3400.00 USD | 12 equal payments of 283.00 USD | 24 equal payments of 141.00 USD | * Cash payment gets a 5% discount at 3230.00 USD. |
Credit Titles
Required credits for Doctoral degrees in Iridology:
| | |
| --- | --- |
| Credit Titles | Credit Hours |
| Minimum 500 word review on any textbook, abstract or media | 5 each/limit 20 |
| Review iridology case study | 1 each/limit 20 |
| Clinical iridology analysis case study assessment | 1 each/limit 50 |
| Submission to Integrative Medicine Iridology Compendium | 1 each/limit 30 |
| Submission of minimum three page iridology tutorial | 5 each/limit 30 |
| Previous iridology course certification | 5 each/limit 20 |
| Proof of community lecture in Iridology | 5 each/limit 30 |
| Minimum 15,000 word Doctorate Disseration | 80 credit hours |
DEGREE COMPLETION LIMITS:
Doctor of Philosophy Iridology Diploma – Ph.D.. – 120 Credits Requirement
Degree completion limit – 48 months (4 years)
ACCREDITATION
As to date, there is no school of iridology that has received accreditation from any legitimate accreditation agency. This program is offered through Professor Bryan Marcia who has obtained his Doctor of Philosophy degree under the guidance of Dr. Bernard Jensen and Dr. Donald Bodeen as his core faculty supervisor. Professor Bryan Marcia was awarded Professor Emeritus in the faculty of Natural Medicine at Capital University of Integrative Medicine located in Washing D.C.
EMPLOYMENT OPPORTUNITIES
Iridology Degree practitioners shall be able to treat clients and patients appropriately.  A holder of the Doctorate of Iridology Degree will be prepared to enter a private practice, become a lecturer, natural health college/university professor or integrative medicine consultant.
Iridology can be integrated with virtually all existing healing arts. Opportunities exist in the development of new software, books, compendiums for the integration of iridology and homeopathy, botanical medicine, ayurvedic, chinese traditional medicine, chiropractic, nutrition, physical medicine, aromatherapy, acupuncture, etc.
For graduate students interested in more advanced 'technological' approaches to iridodiagnostics, we offer the opportunity to work with our programmers in developing their own exclusive software. Opportunities exist for the translation of current iridodiagnostic software development.
 Program Faculty Advisor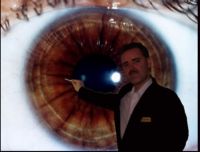 Bryan K. Marcia, PhD

Doctor of Philosophy in Iridology from University of Health Sciences – Honolulu, Hawaii December 15th, 1994.
Studied under UHS Faculty Director Dr. Bernard Jensen.
Faculty advisor: Dr. Donald Bodeen.
Associate Professor in the Department of Natural Medicine at Capital University of Integrative Medicine in Washington, DC, USA from 2000-2006 and was awarded Associate Professor Emeritus in June, 2006.
Continued research, development and teaching in the iridological science to health professionals throughout the world.
Doctor of Iridology Degree Program and Student Manual – Download